Fishing
This area is famous for its fishing opportunities. In Skålans and Börtnans fishing areas you can fish grayling and trout in streams, as well as whitefish, trout, char, rainbow trout, pike and perch in ponds and lakes. In wintertime you can go ice fishing with a fishing jig. Fishing licenses are sold online and there are also several places you can rent a boat.
Fishing licence Berg Municipality, Jämtland.
The "Fiskaibergkortet" fishing license is an affordable 8-day pass that combines many fishing districts in Berg Municipality. The fishing area extends from the southern part of the municipality of Berg to the northern part of the municipality covering 85.000 hectares of water.
Fishing license is available in three variants:
Individual fishing license ( FiskaiBergkortet 1 person)
Family fishing licence ( FiskaiBergkortet Family card)
Boat licence (Båtpass FiskaiBergkortet), if your bring your own boat to the area.
Fishing rules:
Brown trout, char and grayling. With a fishing permit it is allowed to catch a maximum of three fish a day, between 25-40 cm. One of these three can be a so-called trophy fish which measures over 40 cm.
Fishing is restricted to hand held rod.
Baited hook maggot / mask is allowed.
Click on the link below to buy your fishing license. Payment can be done with a VISA or Master Card. The Fishing licence will be send to your e-mail address and phone (sms). You will also find you permit in your user profile on Fiskekort.se.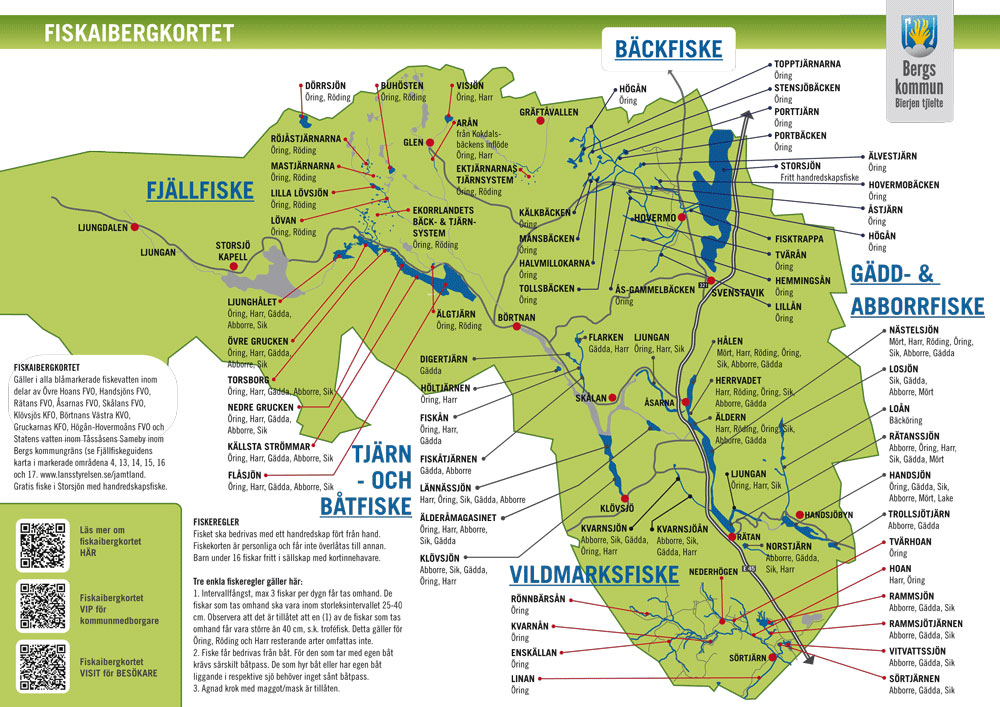 Nature experiences
There are many trails that lead to lakes and into the mountains. It is not unusual to see elk, bear, beaver, osprey and eagle. Even the extremely shy lynxes and wolves sometimes show themselves. The Jämtland Härjedalen area has around 44.000 reindeer, so chances are you will encounter a few. The river Ljungan offers some easy going canoeing from Torsborg (2 km upstream of Börtnan) down to Skålan.
Local attractions
In this area you will find many "fäbodar", traditional Swedish summer farms. Fäbovägen, the gravel road between Börtnan and Persåsen is unique in the country as regards to the amount of summer farms. Only a 5 minute drive from Skålan you will find Trångforsen where the river Ljungan is pushed through a narrow rock formation with a lot of force. Here you will find an exciting Indiana-Jones type suspension bridge, only for the brave ones.
Älggropar is an older hunting method where they had dug big hole in the ground for catching wolves, moose and sometimes even fox and bear. They are found on Lännäset in Skålan and on the Arånäset in Börtnan. In the neighbouring village Börtnan, the climate measuring station, often registers nationally known cold records. Therefor the have a sign that says: "Coldest village in the country".
For more information about activities in the area, take a look at these websites:
Visit Sweden: Jämtland-Härjedalen